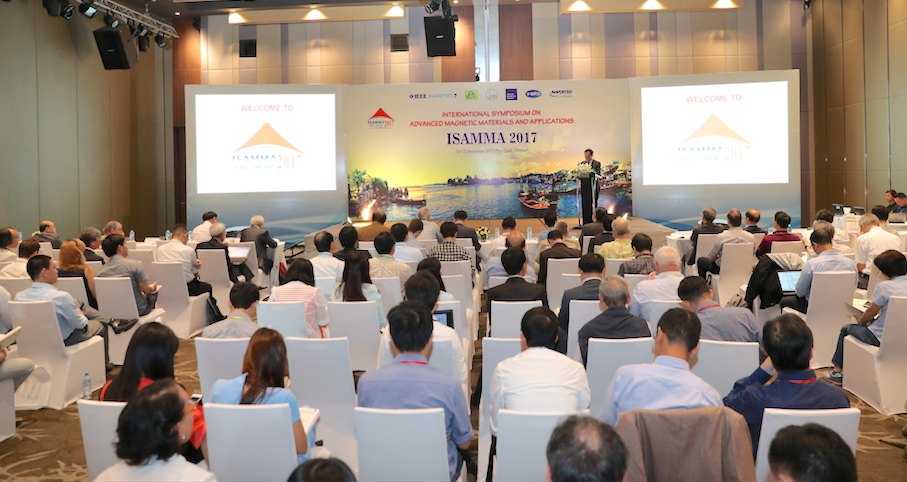 The symposium was part of VNU's Physics Development Program towards 2020 and the 2017 VNU's Science and Technology Plan.
VNU Vice President Nguyễn Hữu Đức - Chairman of the Vietnam Magnetism Society, Head of the Steering Committee of ISAMMA 2017 Symposium delivered a speech.
ISAMMA 2017 attracted nearly 250 leading scientists from 10 countries in Asia and the world.
The aim of this symposium was to bring together scientists and engineers working on magnetic materials and their applications and to facilitate exchange of recent results and ideas relating to the concerned topics. With nearly 300 high-quality scientific reports, the symposium had promoted VNU's leading role in the field of basic science research and applied technologies.
The Symposium topics were: Fundamental Aspects of Magnetic Materials; Hard/Soft Magnetic Materials and Applications; Spintronics Materials and Devices; Magnetic Nanostructured Materials; Multi- Functional Magnetic Materials; Spin Dynamics and Micromagnetics; Magnetic Storage; Materials for Applications.
According to Prof. Nguyễn Hữu Đức, ISAMMA 2017 not only had a high scientific value, but also marked the spirit of integration and deep cooperation of the Vietnam Magnetism Society with the scientific community in the region. This was an opportunity to accelerate the research and application of magnetics to the Vietnamese industry.
Within ISAMMA 2017, the 18th AUMS Council Meeting was held on December 10, 2017; The first Congress of the Society for Physics of Vietnam (term 2017 - 2022) was held on December 11, 2017; the Annual Meeting of the Editorial Board of the Journal of Advanced Materials and Devices was held on December 12, 2017.
At the first Congress of the Society for Physics of Vietnam (term 2017 - 2022), the delegates elected the Executive Board with 19 members including scientists from universities and research institutes throughout the country, and also Vietnamese scientists working in overseas research institutions; VNU President Nguyễn Hữu Đức was elected Chair of the Society.