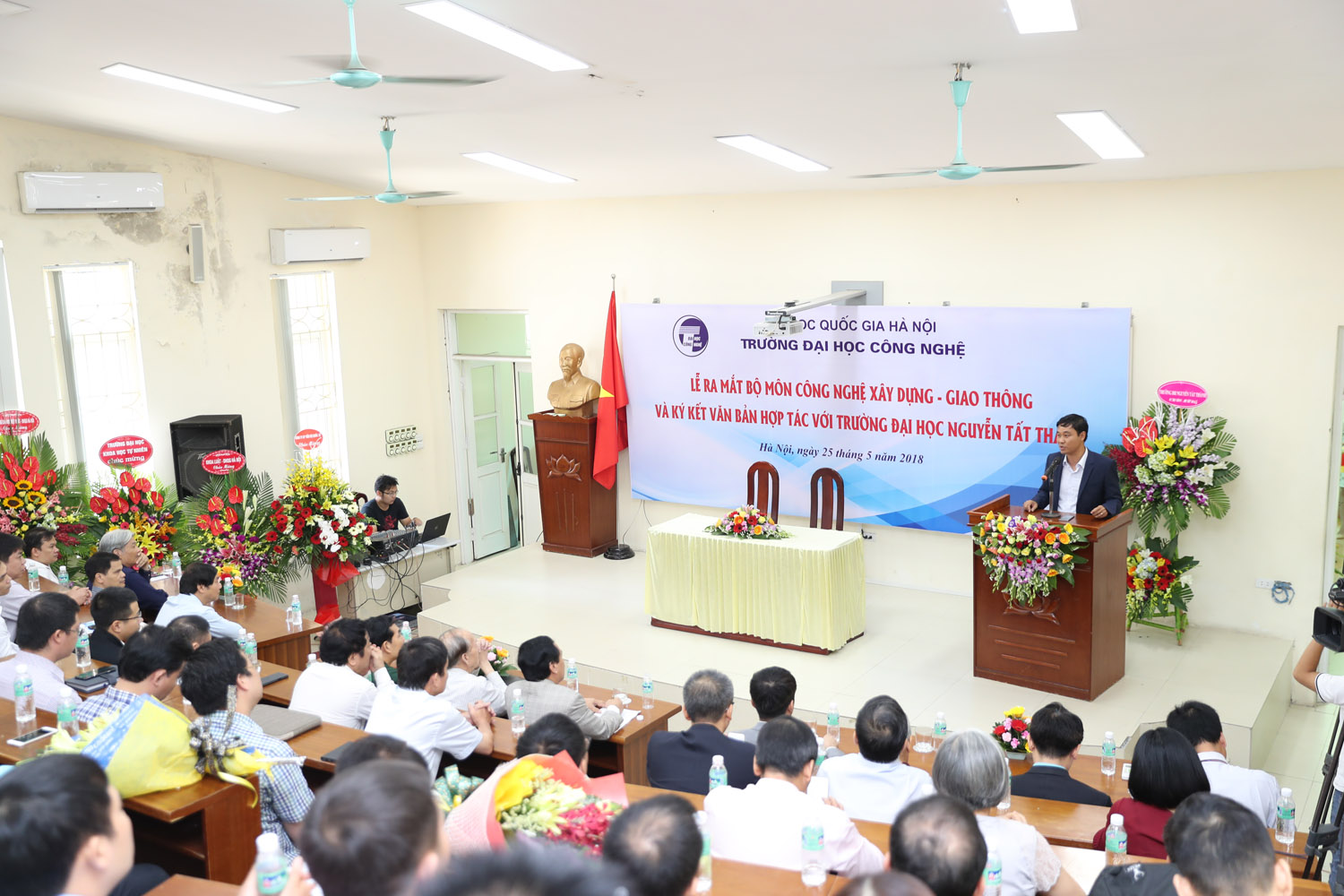 VNU Vice President Nguyễn Hoàng Hải delivered a speech at the ceremony
To meet the high demand for human resources in the area of ​​technical infrastructure – construction, VNU UET has piloted the program of Construction technology – Transport. By early 2018, this program had been featured in the Ministry of Education and Training catalogue.
On March 29, 2018, VNU UET Rector signed Decision No. 252/QĐ-ĐHCN on the establishment of its Department of Construction technology – Transport. The Department has the function of training, researching, knowledge transferring, technology applying, as well as national and international cooperation implementing.
This training program is not only linked to research, it also focuses on graduation projects and internships, namely two compulsory projects and three internships. Though newly established, the Department of Construction technology – Transport under VNU UET has already cooperated in research and training with several leading national and international research and applied science institutions.
At the launching ceremony, VNU UET and Nguyen Tat Thanh University also signed a cooperation agreement in training. Specifically, the two sides will develop joint training programs and academic exchange as well as explore opportunities for international relations development and many other activities.
It is hoped that the new development of VNU UET will bring positive results for Vietnam's higher education as well as contribute to the training of high quality human resources for the society.
VNU University of Engineering and Technology Rector Nguyễn Việt Hà:
The development of transport construction and infrastructure requires more high quality human resources. In the context of the fourth industrial revolution, in addition to in-depth knowledge of the construction, it is necessary to integrate the knowledge of other technologies. I expect a fresh impetus for connecting internal and external resources for research and training in this field.
VNU UET and Nguyen Tat Thanh University signed a cooperation agreement in training