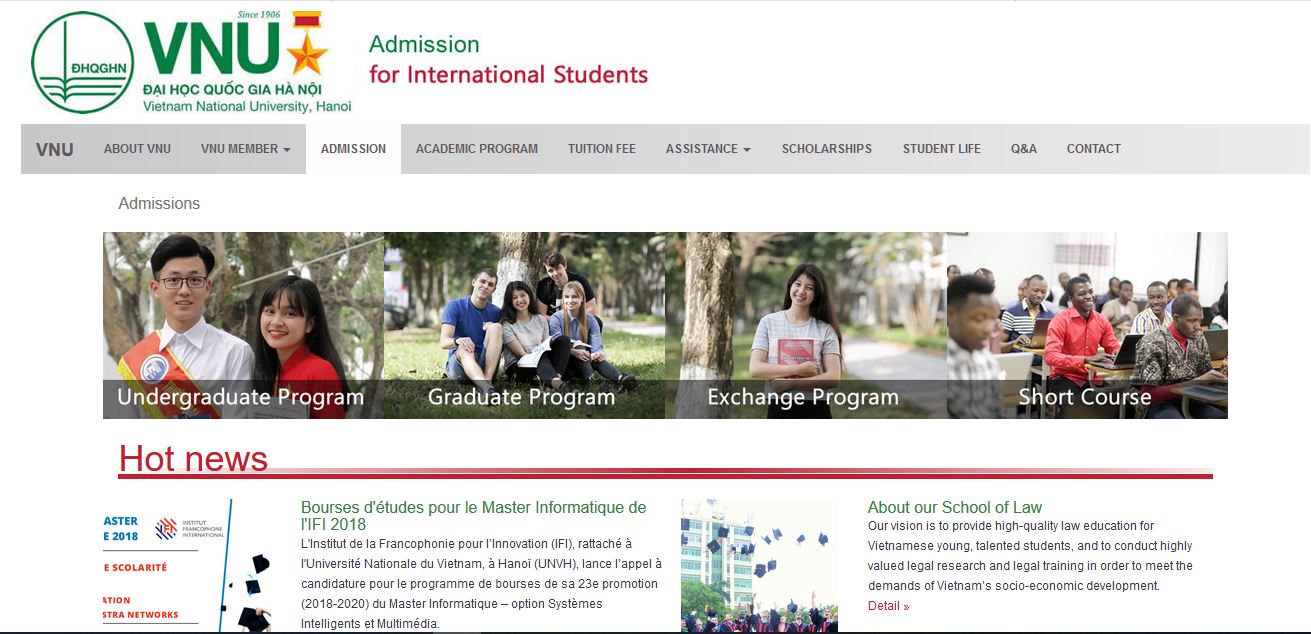 The software is expected to be a channel as well as a method for international students to apply for their academic programs, including bachelor, master, PhD, exchange and short-course programs.
The software is created by consulting some of the prestigious worldwide university's websites including Nanyang Technological University, Singapore (http://www.wkwsci.ntu.edu.sg/), which has comprehensive and friendly design. It was also completed based on the suggestion and comments by Department of Academic Affairs and VNU member universities.
The software consists of 2 pages: Information page and Admission page.
The information page, which is managed by VNU member universities, is to provide information regarding the academic programs, admission process, scholarship, support and services for international students. Besides getting information, students can also contact directly with VNU member universities for further details and advice before applying.
The admission page is where students can create their accounts and register to the program they wish to study. It is easy to log in and complete the application to the VNU member university which they choose.
The software is not only a channel for communication between international students with VNU member universities but it is also to attract more and more students to study or research at VNU, contributing to VNU's internationalization and international integration.
In order to make the software really an effective channel, it is appreciated to have VNU's member universities' close attention, to provide their information in English and to actively interact with international students. The universities also need to announce the software at their campus and introduce it to their international partners.
According to VNU's regulation, all international students who intend to participate in degree programs, exchange programs, and short-course programs are required to register via this software.
Please click on http://admissions.vnu.edu.vn/index.php/home for more information.