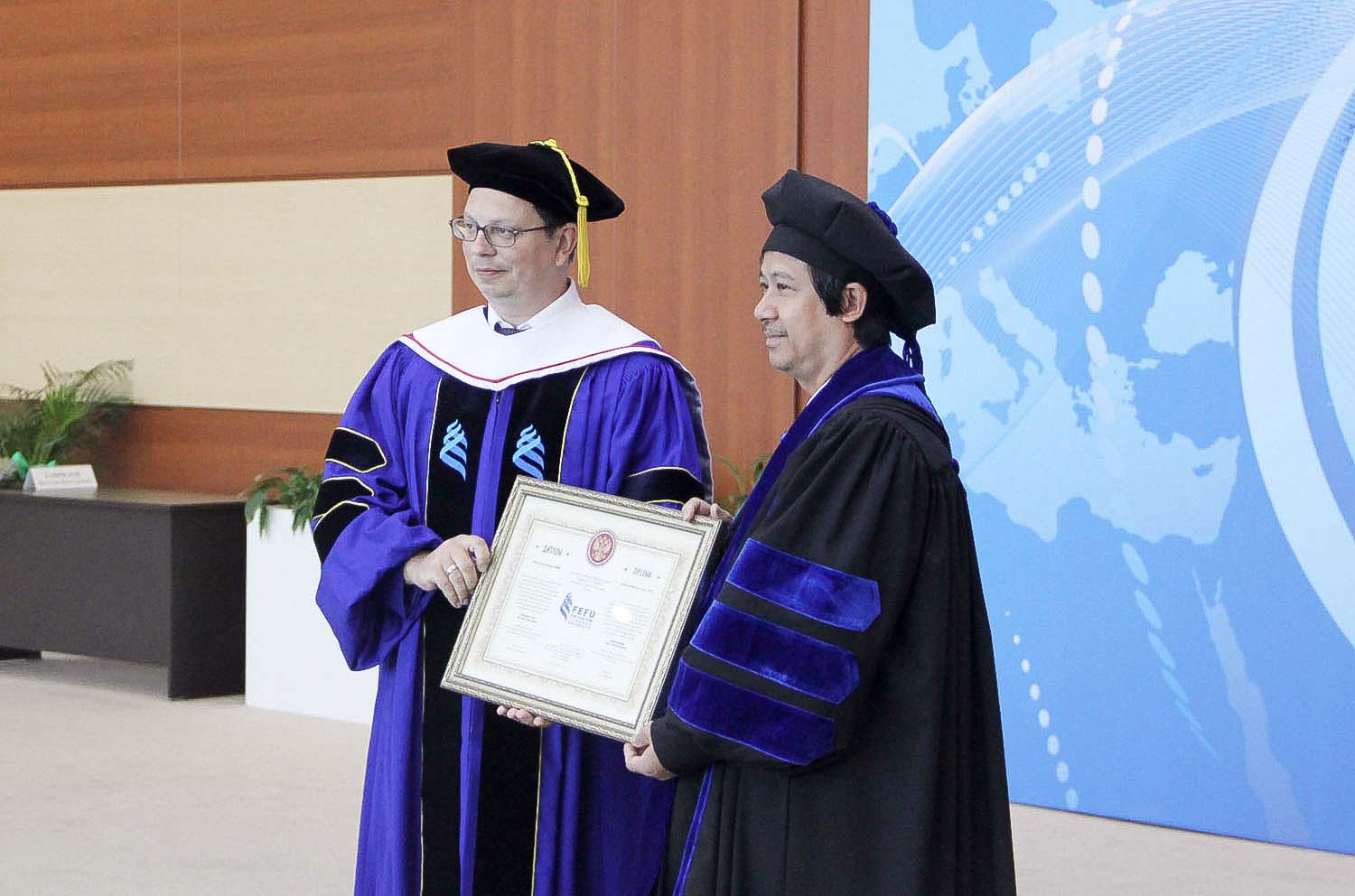 President N. Yu. Anismov awarded FEFU's Honorary Doctor Degree to VNU President Nguyễn Kim Sơn
VNU President Nguyễn Kim Sơn presented his viewpoints on Freedom in Asian philosophy and its value in contemporary life at the meeting. In his research, Assoc.Prof. Nguyễn Kim Sơn has shown a similarity in the core and universal values ​​of Freedom, along with the distinctive character of perception and expression of Freedom.
His scientific report drew a strong attention of the FEFU Science and Training Council, lecturers and listeners through the iconic values ​​of Freedom in Taoism, Buddhism and Confucianism. Concluding the presentation, he asserted that personal freedom and social freedom were always mutually supportive and said that in today's world, human freedom was guaranteed. Along with the development of science and technology, people have more freedom and less limitation by space and time. However, technology also creates new bonds and dependencies for people.
After listening to the report and discussing the scientific views on the value of nations' Freedom, the similarities and differences between the Western and Eastern views on Freedom, the members of the FEFU Council for Science and Technology chaired by President N. Yu. Anismov all agreed to vote for the honorary doctorate for VNU President Nguyễn Kim Sơn. President N. Yu. Anismov awarded FEFU's Honorary Doctor Degree and presented souvenirs to VNU President.
On behalf of the Embassy of Vietnam in the Russian Federation, Consul General Huỳnh Minh Chính congratulated and highly appreciated the scientific contribution of Honorary Doctor Nguyễn Kim Sơn. He also affirmed that this event together with the efforts of VNU in cooperation with FEFU in particular and the Russian partners in general contributed to fostering the traditional cooperation relationship between Vietnam and Russia.
VNU and FEFU also signed an extension of the bilateral cooperation agreement.
In an attempt to expand cooperation not only in the field of language and culture, Russian Studies and Vietnamese Studies, the two universities agreed to open  FEFU's representative office based at VNU University of Languages and International Studies and VNU's representative office based at FEFU. In the coming time, VNU and FEFU would implement joint education programs in the field of marketing and computer technology, training specialists for applied companies and experts in the field of Aerospace Engineering and Oceanography. The two sides also planned to exchange students, lecturers as well as implement joint training and research in line with the development orientation of VNU and Vietnam based on Russia and FEFU's strengths.