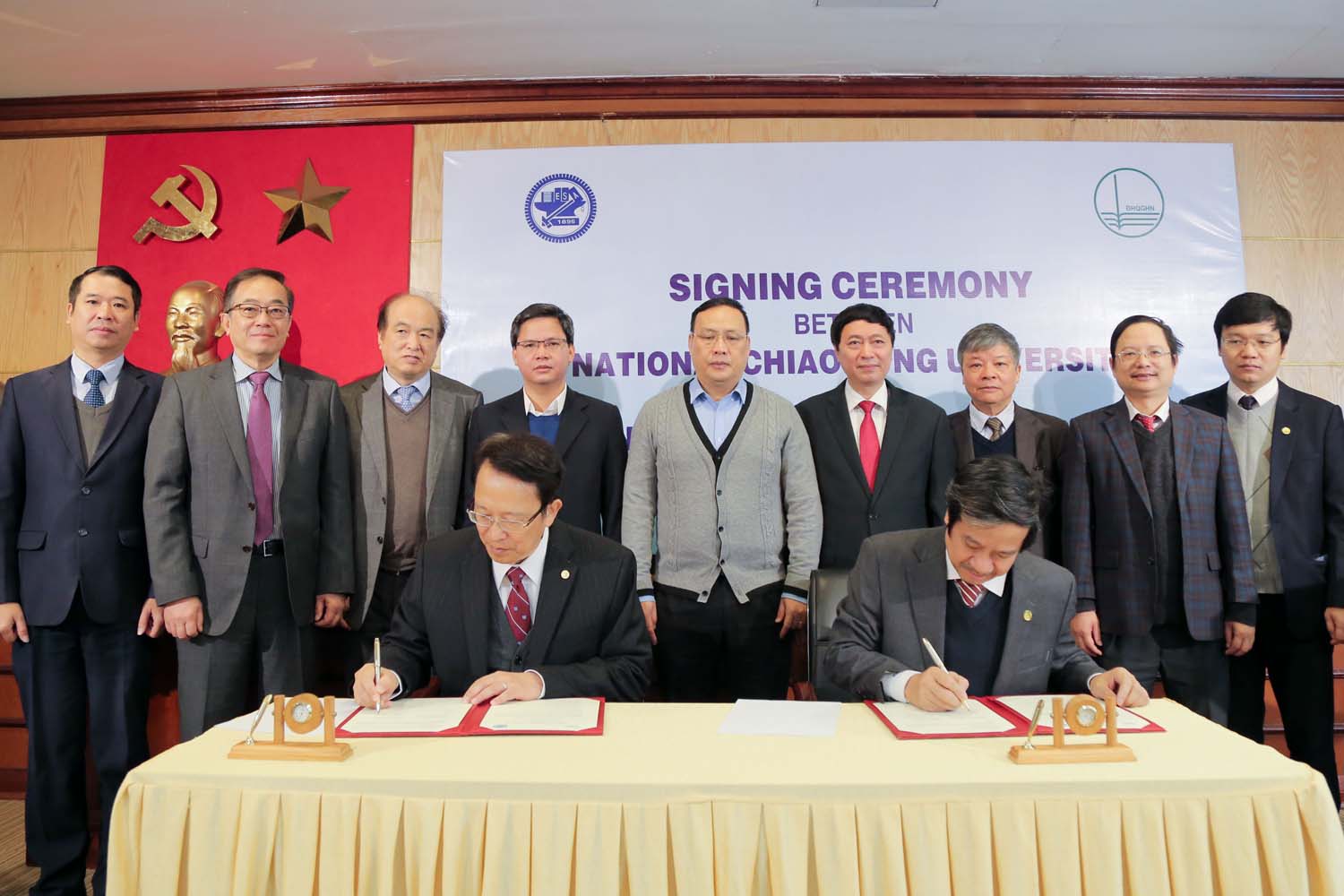 Attending the signing ceremony, on VNU's side, there were President Nguyen Kim Son and leaders of functional departments and the University of Science – NCTU's direct partner.
On the side of National Chiao Tung University, there were President Chang Mau Chung, Vice President Chang Yi and NCTU's Development Fund CEO Chen Haydn.
At the ceremony, VNU President Nguyen Kim Son said that VNU's member units had been in partnership with a large number of Taiwanese universities. According to the President, VNU and those universities share a lot of common interests, namely multi-disciplinary research-oriented development closely linked with business and social activities. NCTU, with its strength of natural science and technology, will be a long-term prospective partner of VNU.
Prior to the ceremony, NCTU's delegation visited the facilities and worked with the leaders of the University of Science and discussed bilateral cooperative perspectives. National Chiao Tung University President Chang Mau Chung stated that Vietnam is a country with great potential in the field of electronics and semiconductor technology; therefore, cooperation between the University of Science and NCTU to provide human resources for the industry is becoming highly relevant and necessary in this context. Mr. Chang proposed that, at the first stage, the two universities would cooperate in conducting a Master's program in semiconductor technology; a copy of the program's syllabus in English had been sent to the University of Science. NCTU leaders hope that this program will be approved by VNU in April, so that the program admission can be started from September this year. In particular, the design of the program offered by NCTU will include the sponsorship of big enterprises, such as TMC, Delta, Foxconn, …
VNU University of Science Rector Nguyen Van Noi expressed his wish to start the joint training program with NCTU. He also proposed that the two parties to conduct joint research projects in addition to training activities.
Closing the ceremony, VNU President Nguyen Kim Son fully agreed with the idea of ​​cooperation and training linkage between VNU in general and VNU University of Science in particular and National Chiao Tung University. With the prestige of NCTU, the President believed that the appraisal and approval of the training program would be accelerated in the future, right after the University of Science's elaboration on the program. On this occasion, President Nguyen Kim Son hoped NCTU would support VNU in building more laboratories for students after the completion of Hoa Lac campus alongside student exchange activities with VNU.
At the end of the ceremony, VNU President Nguyen Kim Son and National Chiao Tung University President Chang Mau Chung signed a cooperation agreement.
National Chiao Tung University (NCTU) is a public university, founded in 1958 in Hsinchu City, Taiwan (formerly was Nanyang Public School, founded in 1896 in Shanghai). NCTU is one of the leading universities in Taiwan in multi-disciplinary study, with strengths in technology, engineering, computer science, management science and social sciences. According to the ranking of QS World Universities, NCTU ranked 174th in 2016 and 2017, and 208th in 2018.
Ten students of VNU are master's and doctoral graduates from NCTU; Dr. Do Quoc Tuan, a 2018 Ta Quang Buu Prize winner, is one of those.