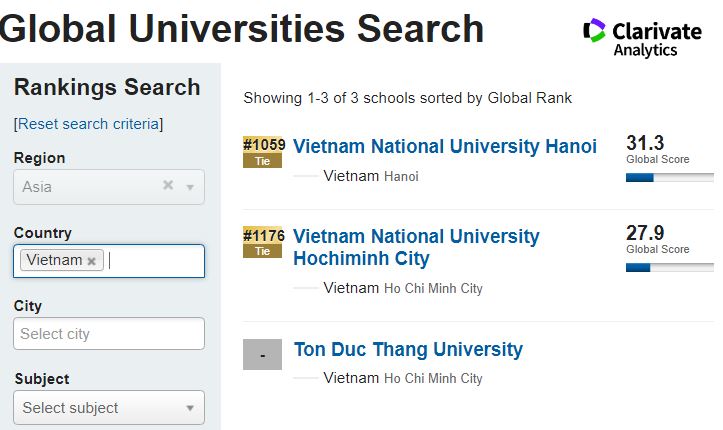 Accordingly, for the first time, Vietnam National University, Hanoi (VNU) was ranked 1059th globally and first in Vietnam, followed by Vietnam National University, Ho Chi Minh City (VNU HCMC), ranked 1176th. Besides, according to the U.S News & World Report, Ton Duc Thang University (Vietnam) was evaluated, but was not ranked.
Ranked by region, VNU is in 275th position and VNU HCMC, 322nd, in Asia; University of Malaya (Malaysia) ranked 27th, Chulalongkorn University and Mahidol University (Thailand) both share 81st ...
In Asia, the National University of Singapore ranked first, Tsinghua University (China) ranked second, Nanyang Technological University (Singapore) ranked third, King Abdulaziz University (Saudi Arabia) ranked fourth, Peking University (China) ranked fifth …
This is the sixth time US News & World Report has published the rankings. More than 30 years ago, US News & World Report focused on the ranking of US universities and colleges. Recently, however, the demand of learners in the US has expanded beyond domestic universities. Therefore, to help US universities compare to other universities around the globe, US News & World Report has published the Best Global Universities Rankings.
This year's US News & World Report Best Global Universities ranking included 1,599 universities from 81 countries, among which, 1,500 institutions were ranked. The Best Global Universities ranking assesses and ranks universities based on scientific database analysis provided by Clarivate Analytics InCites. Thus, ranked 1059th, VNU can be said to be among the top 1000+ leading global research institutions.
Regarding the ranking methodology, Best Global Universities ranking assesses universities by 13 indicators listed in the  table below, completely objective and focused on research reputation (through surveys) and research quality through data analysis published in Clarivate Analytics InCites database. In particular, only those institutions that have met the minimum threshold of at least 1,500 papers published in 2013 to 2017 and have been among the top universities in the results of Clarivate Analytics' global reputation survey will be considered. The scholars participating in the research evaluation are selected authors from the Web of Science database, including the Science Citation Index Expanded (SCIE), Social Sciences Citation Index (SSCI) and Arts & Humanities Citation Index (A & HCI) .
The U.S. News & World Report rankings are based on the following indicators:
| | |
| --- | --- |
| Ranking indicator | Weight |
| Global research reputation | 12,5% |
| Regional research reputation | 12,5% |
| Publications | 10% |
| Books | 2,5% |
| Conferences | 2,5% |
| Normalized citation impact | 10% |
| Total citations | 7,5% |
| Number of publications that are among the 10% most cited | 12,5% |
| Percentage of total publications that are among the 10% most cited | 10% |
| International collaboration – relative to country | 5% |
| International collaboration | 5% |
| Number of highly cited papers that are among the top 1% most cited in their respective field | 5% |
| Percentage of total publications that are among the top 1% most highly cited papers | 5% |